Pho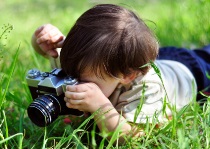 tography and filming is an important issue for toddler groups to address because parents and carers understandably love to get their cameras and camcorders out to record precious moments of their child's life. And, as leaders, we may want also want to take photographs of the children for publicity purposes or for our own records.
The Data Protection Act (DPA) 1998 requires us to be careful when photographing or filming people. This does not mean that photographs should never be taken or that filming is always prohibited, but there are certain protocols that must be followed to comply with data protection and safeguarding children legislation.
Data protection
In 2005 the Information Commissioner's Office (ICO) dispelled the myth that the law prevents taking photographs in situations such as toddler groups – provided that they are  taken purely for personal use they are exempt from the Data Protection Act.
Where the DPA does apply is, for example, when images are used for publicity on a website or in the media. The ICO says that, "If the photographer obtains permission from the parent or individual to take a photograph, this will usually be enough to ensure compliance."
It is perfectly acceptable to ask parents to let you know if they do not want their child photographed or filmed. Write to the parents or guardians to explain why the photographs or films are being taken, what they will be used for, and who might want to look at them. Leave the onus on the parents to contact you if they have any objections. You could include this question on your group's registration form.
Safeguarding concerns in taking photographs
The Churches' Child Protection Advisory Service (CCPAS), an independent Christian safeguarding charity, gives the following advice:
• Put guidelines in place for both parents and your toddler group to follow a simple two-way etiquette about taking photographs or films and whether or not permission must be obtained. Be clear about what can and can't be photographed and when, and for what purpose and destination. For example, "Parents may take photographs of their own child for personal use, while the toddler group may take photographs to appear on the church website for publicity purposes."
• During an event, let parents and others know when they can photograph or video their child. Remember that when children are performing they can be distracted by flashes, so photographs should be taken at an appropriate time.
• There are certain occasions where it may not be appropriate to take photographs, for example, in any activity where a child is semi-naked such as in a paddling pool or swimming baths.
• When using photographs of children and young people, use group pictures and never identify them by name or other personal details, including their email addresses, postal addresses or telephone numbers.
• Remember that gaining permission to take photographs is not only a matter of good manners but may also ensure the safety of children. For example, a woman fleeing domestic violence may not want her current location advertised inadvertently through a photograph appearing on a parent and toddler group website.
For further information on data protection issues, contact the Information Commissioner's Office. Tel: 0303 123 1113. Web: www.ico.gov.uk.
For further help and advice on child protection, contact the Churches' Child Protection Advisory Service (CCPAS), an independent Christian safeguarding charity.  Tel: 0845 120 4550. Web: www.ccpas.co.uk.
This information is supplied in good faith, but Care for the Family cannot accept responsibility for any advice or recommendations made by other organisations or resources.