When my wife Julie had a cyst removed in June 2009 there were no alarm bells ringing. However, after a supposedly routine scan in March 2010, Julie was diagnosed with ovarian cancer. This was a terrible shock to us both and to our extended family, but we felt very positive that we would deal with it successfully both as a family and as a couple.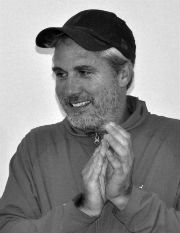 As Julie's treatment progressed through surgery and also chemotherapy it sadly became apparent in late 2010 that her illness was incurable. This was a very dark and stressful time for me and I really struggled with the various roles I was juggling at home as a husband, carer and parent of two children under six. However, Julie's strength and belief that she would get better against all the odds carried the family through a very difficult winter.
Julie undertook a further three rounds of treatment, but by the early summer of 2011 it became clear that she only had a little time left with us. Through the clarity of illness she spent this time talking to family, writing about her life and her beliefs, and trying to leave us with some very positive memories for the future. Julie was often serenely calm, composed, and unafraid, and still retained her sense of humour.
The time after Julie's death in August 2011 was full of conflicting emotions and a blur in many ways, and I realise now that I went back to work way too soon. I had excellent support from many friends and family, but I realised that I needed to do things to help myself as well so I took everything offered – counselling, alternative therapies and, eventually, attending Widowed Young support events with Care for the Family.
After attending a Care for the Family event I was linked up with a telephone volunteer befriender who had lost his wife in similar circumstances and we were able to talk openly and honestly about everything life was throwing my way. I found this fantastically useful, so the following summer, shortly before the first anniversary of Julie's death, I booked a place on a Widowed Young Support Weekend.
This really was a turning point in my recovery. It gave me time and space to reflect and the workshops were very useful. I found activities like writing a letter to Julie to tell her about all the things I had done, and writing a list for all the things I wanted for my life now, really helpful. I came away with a new sense of hope and feeling grateful both for what I had lost, but also for what I had now.
I've tried to take elements of my pre-bereaved life forward with me and have attempted to take on elements of Julie's character that I so admired. Having the strength to set goals for myself and not be defined by my grief and loss has led me in the past year to do a charity cycle ride to Paris, undertake a postgraduate degree and enter into a new relationship. I can now see a future for my children and myself where I can move forward with hope and peace.
Of course life is not the same – I've had a life-changing experience so why would it be? But I have now made a decision to change my life and move forward on my different journey.
In the past few weeks I have found a quote from the Tao Te Ching, the Chinese classic text, that I feel begins to sum up my journey:
Express yourself completely, then keep quiet.
Be like the forces of nature: when it blows, there is only wind;
when it rains, there is only rain;
when the clouds pass, the sun shines through.