Over the years, I've had the opportunity of talking with thousands of individuals about their childhood, and time and again those who spoke of strong families also spoke of traditions. Whether these families were rich or poor, lived in the country or the inner city, were headed by a mother and father or a single parent, their response was often the same. When I asked them to tell me what made the memories of their family life sweet, sooner or later they'd start a sentence with, "We always…"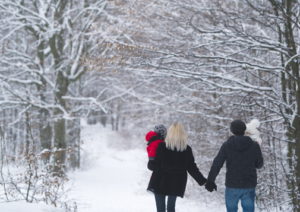 The traditions people have shared with me have been many and varied. They are often to do with special days of the year. One family said they always light candles on Christmas Eve and watch 'It's a Wonderful Life'.
Another family always go for a walk in a busy park on Boxing Day, and as people come towards them they try to guess what presents they are wearing!
One family sings 'Auld Lang Syne' holding hands together in the street outside their home on New Year's Eve and then has a curry afterwards, sharing hopes and dreams for the year ahead around the table.
"A sense of connectedness"
The family acts as a bulwark to the storms of life outside. It should be a place of training, security and safety, but it also has another vital function. It gives us a sense of belonging – of roots; it helps us know our place in the world – perhaps, even, the universe.
Traditions are a part of this, and whether they belong to the national culture – like setting off fireworks on the fifth of November in the UK, cooking a turkey on Thanksgiving Day in the USA – or simply having fish and chips on a Saturday night, they create what someone once called a "sense of connectedness".
Having this "sense of connectedness" is harder today. We're not only more isolated from neighbours and extended family outside the home, but from each other inside it. It's quite likely that on any given evening five members of a family will be scattered throughout the house playing different computer games, watching different television programmes, or listening to different music. The older our children, the harder it is to do anything about this, but that needn't stop us trying.
Family mealtimes
Recently, I spoke to a colleague who'd been running a parenting course. They had talked on the course about the importance of family mealtimes. At the end of the session, Hannah, a single parent, came up to the course leader and said, "We don't have a table in our home and I can't afford one."
They came up with the idea of laying a blanket on the floor and sitting around it. Hannah went home saying she'd try it. But at the start of the following week's session she said, "After I left last week I passed a second-hand furniture shop on the way home and in the window was a table and four chairs. I put a small deposit on it and the owner is going to keep it for me as long as I pay a little off the balance each week."
And that's exactly what she did until one day she walked into the class and announced, "Today my table and chairs are being delivered! Yes!" What she didn't know was that the other parents in the group had been getting ready for this moment, and when she finally sat at the table with her family it was decorated with flowers, candles, and the biggest cake they'd ever seen.
Cementing a marriage
Of course it's not just children for whom traditions are important. They can help cement a marriage – whether it's having a weekend lie-in listening to Steve Wright's 'Sunday Love Songs' on the radio ("Chance would be a fine thing!" say the couple with toddlers), getting away over an anniversary weekend, using silly phrases that mean a lot to the couple but nothing to anybody else, candles on a Saturday night, swapping resolutions on New Year's Eve, or simply never going to sleep without a kiss.
Traditions are powerful. If you don't believe me then talk to any adult you know who had a happy family life. Ask them to tell you what made it special and pretty soon they'll say, "We always …"
Extract taken from 'The Sixty Minute Family' by Rob Parsons. Published by Lion Hudson, 2010.