As I look out of my window at the wind and rain, I remember last summer's glorious weather and dream again of the opportunity to have a summer holiday with my family – a time to rest, relax, spend time together and get away from the daily routine.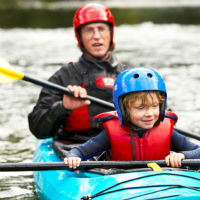 But for many of us, having a child with additional needs makes it very difficult, if not impossible, to arrange such a holiday. In addition to the practical challenges of organising the extra packing and on-site arrangements for our child with additional needs, we can perhaps find it awkward to be around other families who do not understand our particular circumstances.
A couple of years ago, Care for the Family worked with Reality Adventure Works Scotland to run a one-week holiday for families who have a child with Autism Spectrum Disorder (ASD). This was held at an activity centre in Glencoe, where the programme was specifically designed around the needs of the families. This time together with like-minded families helped parents relax and enjoy meeting others with similar experiences. It was especially helpful that there was no need to explain the joys and frustrations of our children's behaviour. There was a deep level of mutual support, and it was also beneficial for all the children to meet with others and improve their social skills.
The challenge of completing the ropes course or working as a team to build a raft, proved hugely enjoyable, as well as helping both parents and children to gain greater self-confidence and the belief that they could achieve more than they had imagined. Most parents said that they simply enjoyed the opportunity to do something completely different in a safe and supportive environment, and new friendships were formed which continued long after the holiday ended.
We all know that holidays can be an essential time of restoration for the mind and body, as well as providing a valuable time together as a family, but it can be difficult to find such holidays. We include details below of some of the holiday providers that we have found who cater specifically for families where there is a child with additional needs. There are many more.
I know it will not be easy, but I do hope that you will be able to get away for a holiday of some kind this year, and that you will be blessed with good weather, great fun and fond memories. Do please let us know if you have found holiday providers that you can recommend, and tell us of your holiday experiences.
Richard Stapleton
Parent Support Manager (Holidays)
www.calvert-trust.org.uk
www.leeabbey.org.uk/devon
www.livability.org.uk
www.throughtheroof.org
www.childrenworldwide.org.uk
www.kepplewray.org.uk
The information in this newsletter is supplied in good faith, but Care for the Family cannot accept responsibility for any holidays or other activities run by other organisations.