Peter and Beryl have two sons who are now young adults. Both boys have learning disabilities and live at home. As often happens in families, there came a time when the boys no longer wanted to join mum and dad for a family holiday. We talked with Beryl about how they found a solution that really works for their whole family.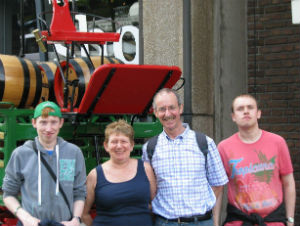 Although the boys had been away with school and friends when they were younger, the main holiday had always been enjoyed by the whole family together. But it was increasingly difficult to choose something that interested everyone. The boys enjoy outdoor activities and like to be well-occupied while on holiday, however Peter and Beryl, while also enjoying the outdoors, also like to relax in coffee shops and over dinner in the evenings!
Following some research on the Internet, Beryl discovered that the Red Ridge Centre in Wales offered 'Activities for All'. One particular holiday week seemed perfect for the two boys, and after Beryl phoned Red Ridge to find out more, she and Peter felt comfortable that their sons would be cared for appropriately and would have a great time. They booked the boys in for the following Easter and also fixed up a separate holiday for themselves. Beryl chose a cottage near enough to get to the Centre if needed, but far enough away not to accidentally come across the boys and cramp their style!
The time away was so successful that the boys asked to go to the Red Ridge Centre again in the summer, this time for two weeks. So, feeling more confident now, Peter and Beryl also booked a holiday for themselves – this time abroad. Beryl explains, "Going away together without the boys felt a bit strange at first, but we quickly got used to it and had a fabulous time! Knowing that the boys were also having a fantastic time without us helped us to relax and make the most of the opportunity!"
Beryl and Peter realise the importance of looking after their own relationship at the heart of the family. With their young adult sons sharing the family home it is good to take advantage of the opportunity to increase their independence while also creating couple-time for themselves. "It's a win, win!" Beryl said.
The information in this newsletter is supplied in good faith, but Care for the Family cannot accept responsibility for any holidays or other activities run by other organisations.