Lizzie is married to David and they also have a daughter, Bethany, aged eight.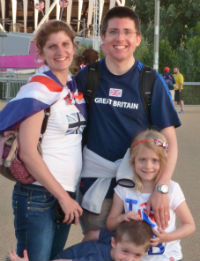 Our journey so far has been a very long and emotional one. As a baby, Isaac was hard work. He cried a lot of the time, slept badly and could not be easily comforted. He went on to be a very demanding toddler who would throw huge temper tantrums and was very fixed in routine. As parents, we weren't overly concerned, thinking that perhaps it was just because he wasn't like his sister or that he was a boy.
By the time Isaac was three I was exhausted! I was suffering from depression and anxiety and thankfully we managed to get a place for him at a local pre-school to give me a break. It was here where concerns were first raised about his speech delay and lack of social skills.
The following year, when he joined the nursery unit at the primary school, further concerns were raised that Isaac wasn't developing as hoped. He made no eye contact and was becoming restricted by routines –having major meltdowns when routines were changed. He became obsessed with certain toys and with other children, grabbing them and not letting go. Isaac refused to participate if he didn't understand and often insisted on playing on his own. He was also showing a hypersensitivity to noise, crowds and touch.
In the January before Isaac was four, we saw an educational psychologist who said he thought that Isaac had autism.
I remember sobbing my heart out as the bottom fell out of my world! In part, it was a relief because a professional had confirmed what I was already thinking, but at the same time I was crushed that there was something different about my perfect baby.
This started a chain of tests, appointments and assessments, and finally in April 2013, Isaac received a formal diagnosis of high functioning autism spectrum disorder (ASD) and we began the 'statement process' to secure his additional help and funding at school. We also started to look for local authority respite care for Isaac to give me a break and so that I could spend some much needed time with my daughter.
It was at this point that I fell apart! I'd been so focussed on getting a diagnosis that I hadn't looked beyond that moment and I spent many hours in tears. Whilst seeking out other parents in a similar position, I found a local group through Facebook and met other mums of children on the autism spectrum. I also found a wonderfully supportive and caring counsellor who let me talk, cry, and share my feelings, doubts and fears for the future without being judgemental.
We got through this time together as family, and looking back I cannot believe how far we have come.
I fought for my child and won – that in itself should be celebrated! I have achieved things I never thought possible. I have also had the privilege of meeting some amazing people. And, although our family life is very different from the life we planned, it is not a disaster. Isaac is an amazing, loving, little boy. He charms everyone he meets, and his cheeky smile will get him a long way! Bethany is an amazing big sister, supportive and always looking out for him.
As for me, I wouldn't have it any other way. I am now using my experience to come alongside and support other parents in a similar position. Yes, it is still hard. There are days when the exhaustion is overwhelming, and I just want to curl up into a ball. But it is so good to know that I am not alone and that other parents are in a similar position. This is one of the reasons I love being involved with Care for the Family's Additional Needs Support.
Isaac has taught me so much about the world, about difference and about diversity. I now believe that autism, no matter how awful those words may sound at first, can be a gift.