When our child dies, our lives simply cannot contain the loss. We asked some of our befrienders to tell us how, over time, they have been able to incorporate it within their 'new normal' lives.
Whenever we run events for bereaved parents we use a helpful visual demonstration of what it means to start accommodating the catastrophic event of our child's death into our lives.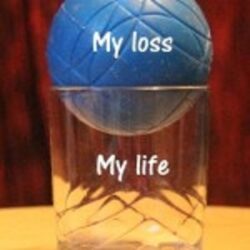 The ball in the picture represents our loss; the glass, our life – our loss is simply too great for our lives to contain it. As time goes by, the fact that we are surviving and ultimately living meaningful lives again, is not because we have forgotten our child or that their loss has become less significant to us. What has happened is that our capacity to cope with that devastation has increased. In time, our lives grow, to be able to contain our loss as well as other things which have significance and meaning, and even provide enjoyment. This isn't a process that happens overnight – or even in the first few months following the death of our son or daughter. It is, perhaps, the journey of the rest of our lives.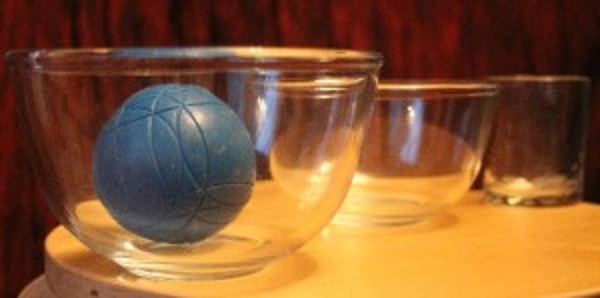 We asked our Bereaved Parent Support befrienders to tell us how this growth in capacity for living has taken place in their lives.
Many of our befrienders reminded us of the need to take small steps. Set small goals for yourself, such as a short walk or coffee with a friend. It's also helpful to break a task down – for example, buying only one or two things the first time you shop.
If friends offer help, try to allow them into your life. Hopefully, you will find a few people you can trust and can be yourself with.
The opportunity to be with others who are carrying grief was also valued by our befrienders, who said that talking to people who have experienced a similar loss encouraged and helped them realise it was possible for them to survive too.
Learning to communicate with their partner again was really important to Nich and Di:
Sandra felt relief, then guilt, when she realised she was able to get absorbed in something for a few hours without thinking about her daughter Louise:
In time, make space to do things that you enjoy. It could be an old hobby or interest, or you may feel able to try something new. Perhaps plan a small trip or holiday, and try to have something to look forward to. Or start a project such as de-cluttering your attic, however, don't expect to be able to take on bigger challenges like this overnight.
Ian and Janet did take on a bigger challenge and travelled to New Zealand for sixteen months:
Over time your life will be fuller, not because you have squeezed out the memory or the loss of your child, but because your capacity has grown sufficiently to be able to carry that as well as incorporate other things, other people and other challenges which will enrich your life. You will find yourself achieving things you would never have thought possible.

Help us support families today
At Care for the Family we support couples, parents and those who have been bereaved. If you would be able to make a one off donation to support our work, we would be very grateful. Thank you.