We all know what it's like – you're out running errands and you fancy a coffee, so you pop into your local Starbucks (other coffee shops are available!) … £3.75 later …
You're doing your weekly food shop and you spot a bargain in the household aisle … £4.99 later …
It quickly adds up. And add to that your monthly rent, bills, credit card bills and possibly payday loan, and it's easy to see how so many people are getting into trouble with debt.
Although it's never easy to tighten the purse strings (and we understand – we all like nice things), it's like Theodore Roosevelt said, "Nothing worth having comes easy". So with a little hard work and determination – even if you just take tiny steps – you can get out of debt. We hope these ideas might help.
Make a plan – decide how much you can pay off each month and how quickly you want to clear your debt. The sooner the better, so you can begin enjoying your income and not have the stress of debt.
Prepare a budget – look carefully at your income and outgoings to establish how much you can afford to spend on things each month. Include everything that is essential – from food to transport, utility bills and toiletries.
Cut up credit cards – so you're not tempted to use them again.
Prioritise your debts – some debts have more serious consequences than others. Seek advice about priority and non-priority debts – for example not paying the rent or mortgage may mean losing your home, so is more of a priority than credit card debts. Then hit the credit/store cards and at least pay off the minimum payment on all your cards (otherwise charges are incurred), but try pay off those with the highest interest rates first.
Look in your attic and cupboards – are there items you can sell that you no longer use.
Hold off on treats for a while – and use the cash to repay extra off your debts.
Speak to your immediate family – let them know that birthdays and Christmas may be a little 'leaner' this year. If you've got children, it's good to teach them that spending what you don't have is not a good thing, even if you have to go without for a bit.
Review all you direct debits – and see where you can cut back. Is there a gym membership that isn't used or could be cancelled? Reduce your TV package to the most basic plan. Don't upgrade your phone at the end of the contract, instead revert to a cheap SIM only plan and keep using your existing phone. Also check to see if your energy supplier and various insurers are good value – there are loads of comparison sites that can help you do this.
Learn to say no – when friends ask you to go out for a night, try to resist. It will be hard at first, but if you can't afford it, it's wise not to go. If you do go out, look for something simple and cheap on the menu and let your friends know you won't be splitting the bill. Tell them you're happy to pay just for your own. Or instead of going out, perhaps suggest a night in – there are loads of fun things you can do in your own home, like cook a meal, play a game or watch a film.
Build up an emergency fund – even while you're paying off debt, it's essential to have some spare cash, in case the car breaks down or your kitchen floods. This will help keep you from relying on the credit card.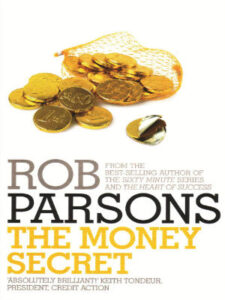 For additional reading and advice, check out The Money Secret by Rob Parsons.
If you're unable to pay for the book, please contact us and we'll see what we can do.
Help us support families today
At Care for the Family we support couples, parents and those who have been bereaved. If you would be able to make a one off donation to support our work, we would be very grateful. Thank you.