Your bellies full and your spirits lifted! 
Fun and creative ideas for your church toddler group 
A reminder of the value you bring to each moment and encouragement that everything you do leaves a lasting impression on toddlers and their families 
Tips that'll motivate and empower you to keep going  
Unique opportunities to network with toddler group leaders from across the UK and be inspired for the future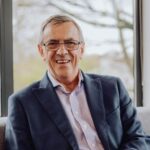 Rob Parsons
Rob Parsons, OBE, is the founder and chairman of Care for the Family. He is a bestselling author of over 20 books, including The Sixty Minute Family, and has spoken to over a million individuals around the world. Rob is an excellent communicator and has a wealth of wisdom to share.
Bekah Legg
Bekah is the CEO of Restored, a Christian charity supporting survivors of domestic abuse. Bekah has been a single-mum, step-mum and foster-mum and has used this experience to run parenting groups and write family devotionals to help families raise their children in faith.
Worship leader, Pete James
Pete is a song and storywriter and creator of the Cheeky Pandas. Cheeky Pandas are a fun filled band of Pandas with their own animated TV series, songs, and storybooks and live show. Pete still regularly leads worship at his local church and wider. Married to Nicola; they have two daughters.
Event info
As toddler group leaders, we can be such a lifeline to the families we work with. Our groups provide safe spaces, practical help and encouraging conversations, where parents, carers and children feel loved and supported. But how often in those everyday interactions, do we consider that we're making a huge difference in their lives?
When we actively stop to embrace each moment we share with families, we can grasp the significance of the impact we're having.
Together, we'll explore how every moment in our church toddler groups can leave a trace, how no moment is lost and how, whatever role you play, you have the chance to make a difference. We hope you can join us, in person, in Cardiff this year for all your Playtime favourites; inspiring speakers, informative workshops, networking opportunities, the infamous sing-along session and of course lunch.
Come ready to be challenged and changed as we embrace each precious moment together.
Main sessions
Is it for you?
Booking info
Rick Otto - Where have all the volunteers gone?
Join Rick as we discuss tried and tested principles to recruit a team and to reflect honestly and openly about some of the challenges we can face.
Helen Lock - The beauty in vulnerable connections
Sometimes connecting with families can be difficult. We may not know how best to start a conversation or what to say. But making ourselves vulnerable can open up opportunities to share insight and compassion with others and develop deeper connections.
Becky Davies - Being a lighthouse to those in need
Living in an area of high deprivation, with so many young mums needing emotional and practical help, Becky made the brave decision to move from her church building into the centre of her community.
Georgie Pegg - The wonder of sensory play
This workshop will delve into sensory play – exploring what it is, the benefits for both children and parents and how children learn (about themselves and the world around them) through play.
We value your support and we'd love our events to reach as many families as possible. If you're able to help us spread the word, we've created a number of promotional items which are available to download and share. We would be delighted if you were in a position to do any of the following:
List our events – lets others know by sharing our info on your website
Presentations – use the slide during any relevant speaking engagements you may have over the coming months
Social media – feel free to use our images on your own social media pages