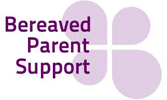 For all the latest updates and further support for those who have lost a child, like our Bereaved Parent Support page on Facebook.
How to help bereaved parents Download our free resource sheet "How you can help bereaved parents", for anyone supporting a bereaved parent, it is based on real-life experiences and contains some practical tips on helpful things you can say and do - and those things best avoided.
Newsletters
Sign up to receive the Bereaved Parent Support newsletter.
Read our latest newsletter here.
Support events