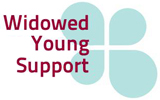 For all the latest updates and further support for those who have been widowed young, like our Widowed Young Support page on Facebook.
Download our free resource sheet How you can help those widowed young, for anyone supporting a friend or relative, it is based on real-life experiences and contains some practical tips on helpful things you can say and do - and those things best avoided.
Newsletters
Sign up to receive the Widowed Young Support newsletter.
Read our latest newsletter here.
Events