I recently went with my 2 children to visit some of our family in the US. Whilst we were there we took a road trip to see the Grand Canyon. Our last approach into the National Park was by train and as we arrived, there was lots of snow on the ground, which I hadn't quite been expecting nor was the fact that we might not actually see the Grand Canyon itself. Sure enough 10 minutes later when we walked to a view point, I could not really see much but fog and snow. I knew there was a vast gaping hole beneath the fog, but had no idea what it actually looked like, how wide this bit was, how deep it was, where the rocks and trees were. All we saw was whiteness in front of us and knew it wasn't a good idea to walk forward.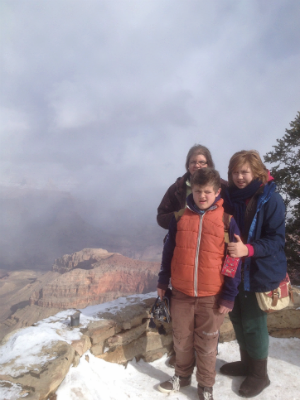 Sometimes and more so when we first lose someone, it can be like that emotionally and physically. There is this gaping, dangerous hole that you absolutely know is there, but it's fogged over because of the emotional pain, and with the knowledge that what we can see is not quite the full picture. We can't quite comprehend all that has happened.
If that was all that I had seen of the Grand Canyon, after travelling all those miles, I would have felt cheated and left feeling very disappointed. A couple of hours later, at sunset we went back out to the viewpoint. The fog had lifted and we saw layers of hazy colours in front of us. The crowds from the day had gone and it was almost silent. It was my first full view of the Canyon; it looked huge and moody in the fading light, but all together spectacular. Again I was reminded of my grief journey, as the fog lifts things can be a little hazy, some colour, a lack of clarity, still some fear.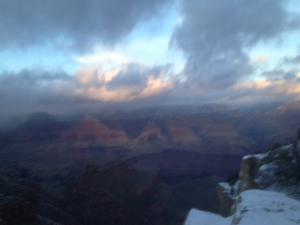 We stayed over in a hotel on the National Park that night and visited the Canyon Rim again the following morning. It was a bright, crisp winter's day and the sky was blue. We saw the snow tipped upper layers of the Canyon's upper ridges in full view. The snow made them stand out even more and that was something very special to see.
The man that I married died almost 9 years ago, and I can now say for certain that there are things of beauty and change that have gone on in me. There are painful deep ridges that have been cut in my life that although healed will always leave a scar. There are gaps in my children's lives especially as they grow up without their dad and the impact that he would have had on their lives. However I have a new understanding of grief and loss, what it's like to lose someone you love and how I want to help other people in that situation.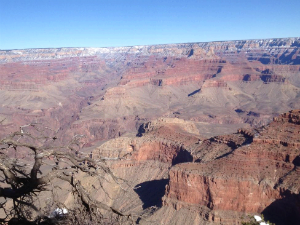 As I looked down toward the many layers of the floor of the Canyon below, I saw empty walking trails on some of the ridges. I thought that if I was down there, would anybody notice me? In life and especially in bereavement we can walk a lonely path in our "valley of sorrow". We need people on that rim to help us in whatever way that is- practically, emotionally, regularly, spiritually. We need to look up and see who is encouraging us. Sometimes, opportunities happen naturally, sometimes we need to proactively do something to get those people there – ask, search, step out.
Ruth Nelson