Care for the Family has developed a range of resources to help you support single parents in your area.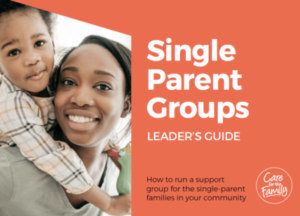 This free downloadable guide details how to run a support group for the single parent families in your community. The resource includes:
Insights into life as a single parent and the issues they may face
Practical advice on setting up a group, including gathering a team of volunteers
Help finding the right venue and what you need to think about before you start
Sample documents to personalise for your group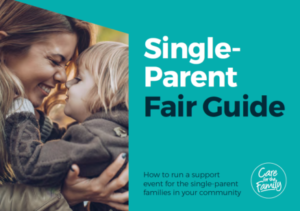 A Single Parent Fair is an event where single parent families can come and enjoy different activities (sometimes with childcare provided). Parents may access advice from useful service providers in the area as well as be treated to a head massage, crafts and cake and the kids to fun on inflatables.
This free, downloadable guide includes:
Advice to help you successfully plan and run a fair for single parents
Top tips on working with exhibitors, childcare provision and health and safety
Sample documents to get you started
The Single Parent Sessions is a free resource for use with small groups of parents in a relaxed and informal setting. It is suitable for all mums and dads who are parenting alone. The sessions each include an introductory video, discussion questions and parent handouts.
Topics include: 
The single parent journey
Is it because I'm a single parent?
Parenting styles
Boundaries
Co-parenting
Parenting a child of the opposite sex
Still not sure whether to start a Single Parents' Group? We met up with a group leader, volunteers and parents and asked them to share with us their experiences of running a group and being a part of one.