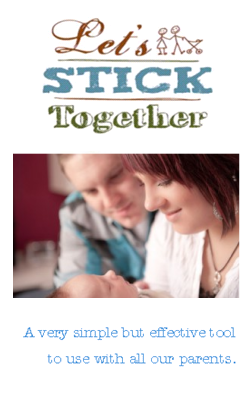 Research has shown that family breakdown is most common during the early years of parenthood, but this can be reduced with small changes in a couple's behaviour.
In the excitement and utter exhaustion of becoming new parents, the first thing a couple can overlook is their own relationship. So 'Let's Stick Together' is a powerful one-hour session that seeks to help new mums and dads keep their love alive.
Based on sound research, the session teaches simple principles to which all parents can easily relate. Whether married, cohabiting or single, parents find it useful, enjoyable, informative and not at all scary. It is also simple to present to any ante-natal or post-natal group.
Read more about what is included in a let's Stick Together session.
'Let's Stick Together' has been funded by the Department for Education in England, and was successfully piloted and evaluated in several major cities including Bristol, Bedfordshire and the South West of England.
Let's Stick Together in Northern Ireland
We have recently taken Let's Stick Together to Northern Ireland where it is supported by the Northern Ireland Executive through the Department for Social Development.
Hear how two couples in Northern Ireland benefitted from attending a 'Let's Stick Together' session*.
To find out more about 'Let's Stick Together' in Northern Ireland call 028 9262 8050.
*This information is supplied in good faith, but Care for the Family cannot accept responsibility for any advice or recommendations made by other organisations or resources.